Two easy ways to discover you.
Choose what's right for you.
Features

Ancestry + Traits

Service

Health + Ancestry

Service

Ancestry

Now with 2000+ regions

Ancestry Reports

DNA Relative Finder (opt in)

Find and connect with relatives in the 23andMe database who share DNA with you.

Automatic Family Tree Builder

Start a family tree automatically based on your DNA.

Health Predisposition Reports*

10+ reports including: BRCA1/BRCA2 (Selected Variants), Alpha-1 Antitrypsin Deficiency, Late-Onset Alzheimer's Disease, Type 2 Diabetes (

Powered by 23andMe Research

)

Carrier Status Reports*

40+ reports including: Cystic Fibrosis, Sickle Cell Anemia, Hereditary Hearing Loss

Wellness Reports

5+ reports including: Deep Sleep, Lactose Intolerance, Genetic Weight

Traits

Trait Reports

30+ traits including: Male Bald Spot, Sweet vs. Salty, Unibrow

Other

Raw Data

Access your raw, uninterpreted genetic data file.** Must not be used for medical or diagnostic purposes.

Share, compare and discover more with friends and family

Trace DNA through your close family and explore the genetic similarities and differences between you and family members.

Ancestry + Traits
Reports only

All
Reports

Add Health Predisposition*, Carrier Status*, and Wellness reports

Add later
for £90***

Included!
You save £20
*The 23andMe PGS test includes health predisposition and carrier status reports. Health predisposition reports include both reports that meet FDA requirements for genetic health risks and the 23andMe Type 2 Diabetes health predisposition report which is based on 23andMe research and has not been reviewed by FDA. The test uses qualitative genotyping to detect select clinically relevant variants in the genomic DNA of adults from saliva for the purpose of reporting and interpreting genetic health risks and reporting carrier status. It is not intended to diagnose any disease. Your ethnicity may affect the relevance of each report and how your genetic health risk results are interpreted. Each genetic health risk report describes if a person has variants associated with a higher risk of developing a disease, but does not describe a person's overall risk of developing the disease. The test is not intended to tell you anything about your current state of health, or to be used to make medical decisions, including whether or not you should take a medication, how much of a medication you should take, or determine any treatment. Our carrier status reports can be used to determine carrier status, but cannot determine if you have two copies of any genetic variant. These carrier reports are not intended to tell you anything about your risk for developing a disease in the future, the health of your fetus, or your newborn child's risk of developing a particular disease later in life. For certain conditions, we provide a single report that includes information on both carrier status and genetic health risk. Warnings & Limitations: The 23andMe PGS Genetic Health Risk Report for BRCA1/BRCA2 (Selected Variants) is indicated for reporting of the 185delAG and 5382insC variants in the BRCA1 gene and the 6174delT variant in the BRCA2 gene. The report describes if a woman is at increased risk of developing breast and ovarian cancer, and if a man is at increased risk of developing breast cancer or may be at increased risk of developing prostate cancer. The three variants included in this report are most common in people of Ashkenazi Jewish descent and do not represent the majority of BRCA1/BRCA2 variants in the general population. This report does not include variants in other genes linked to hereditary cancers and the absence of variants included in this report does not rule out the presence of other genetic variants that may impact cancer risk. The PGS test is not a substitute for visits to a healthcare professional for recommended screenings or appropriate follow-up. Results should be confirmed in a clinical setting before taking any medical action. For important information and limitations regarding each genetic health risk and carrier status report, visit 23andme.com/test-info/
**This data has undergone a general quality review however only a subset of markers have been individually validated for accuracy. The data from 23andMe's Browse Raw Data feature is suitable only for informational use and not for medical, diagnostic or other use. Consult with a healthcare professional before making any major lifestyle changes.
***Savings based on regular upgrade price of £90. We may offer special discounted upgrades from time to time.
Choose your service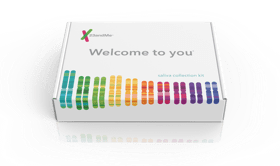 Features

Ancestry + Traits

learn more order

Health + Ancestry

learn more order

checked

checked

Your DNA can tell you about your family history. Ancestry Composition, Ancestry Detail Reports, Maternal & Paternal Haplogroups, Neanderthal Ancestry

checked

checked

Find and connect with relatives in the 23andMe database who share DNA with you.

checked

checked

Start a family tree automatically based on your DNA.

checked

10+ reports including: BRCA1/BRCA2 (Selected Variants), Celiac Disease, Late-Onset Alzheimer's Disease, Type 2 Diabetes (

Powered by 23andMe Research

)

checked

If you are starting a family, find out if you are a carrier for an inherited condition. Example reports include: Cystic Fibrosis, Sickle Cell Anemia, Hereditary Hearing Loss

checked

Learn how your genes play a role in your well-being and lifestyle choices. Example reports include: Deep Sleep, Lactose Intolerance, Genetic Weight

checked

checked

Explore what makes you unique, from food preferences to physical features. Example reports include: Male Bald Spot, Sweet vs. Salty, Unibrow

See full list of reports

£79

order

£149

order
Features

Health + Ancestry

learn more

£149

Ancestry

learn more

£79

checked

checked

Your DNA can tell you about your family history. Reports include: Ancestry Composition, Ancestry Detail Reports, Haplogroups, Neanderthal Ancestry

checked

checked

Find and connect with relatives in the 23andMe database who share DNA with you.

checked

If you are starting a family, find out if you are a carrier for an inherited condition. Example reports include: Cystic Fibrosis, Sickle Cell Anemia, Hereditary Hearing Loss

checked

Learn how your genes play a role in your well-being and lifestyle choices. Example reports include: Deep Sleep, Lactose Intolerance, Saturated Fat and Weight

checked

Explore what makes you unique, from food preferences to physical features. Example reports include: Male Bald Spot, Sweet vs. Salty, Unibrow

See full list of reports

£149

order

£79

order
*The 23andMe PGS test includes health predisposition and carrier status reports. Health predisposition reports include both reports that meet FDA requirements for genetic health risks and the 23andMe Type 2 Diabetes health predisposition report which is based on 23andMe research and has not been reviewed by FDA. The test uses qualitative genotyping to detect select clinically relevant variants in the genomic DNA of adults from saliva for the purpose of reporting and interpreting genetic health risks and reporting carrier status. It is not intended to diagnose any disease. Your ethnicity may affect the relevance of each report and how your genetic health risk results are interpreted. Each genetic health risk report describes if a person has variants associated with a higher risk of developing a disease, but does not describe a person's overall risk of developing the disease. The test is not intended to tell you anything about your current state of health, or to be used to make medical decisions, including whether or not you should take a medication, how much of a medication you should take, or determine any treatment. Our carrier status reports can be used to determine carrier status, but cannot determine if you have two copies of any genetic variant. These carrier reports are not intended to tell you anything about your risk for developing a disease in the future, the health of your fetus, or your newborn child's risk of developing a particular disease later in life. For certain conditions, we provide a single report that includes information on both carrier status and genetic health risk. Warnings & Limitations: The 23andMe PGS Genetic Health Risk Report for BRCA1/BRCA2 (Selected Variants) is indicated for reporting of the 185delAG and 5382insC variants in the BRCA1 gene and the 6174delT variant in the BRCA2 gene. The report describes if a woman is at increased risk of developing breast and ovarian cancer, and if a man is at increased risk of developing breast cancer or may be at increased risk of developing prostate cancer. The three variants included in this report are most common in people of Ashkenazi Jewish descent and do not represent the majority of BRCA1/BRCA2 variants in the general population. This report does not include variants in other genes linked to hereditary cancers and the absence of variants included in this report does not rule out the presence of other genetic variants that may impact cancer risk. The PGS test is not a substitute for visits to a healthcare professional for recommended screenings or appropriate follow-up. Results should be confirmed in a clinical setting before taking any medical action. For important information and limitations regarding each genetic health risk and carrier status report, visit 23andme.com/test-info/