Learn how your DNA may affect your health.
Our genes are a part of who we are, so naturally they impact our health. By knowing more about your DNA, you may be able to take steps towards living a healthier life.
Keep in mind that many conditions and traits are influenced by multiple factors. Our reports are intended for informational purposes only and do not diagnose disease or illness.
Plan for the future.

Learn if you are a carrier for certain inherited conditions, so you and your family can be prepared.

Stay one step ahead.

Find out if you have certain genetic risk factors, so you can make better lifestyle choices and appropriately monitor your health.

Engage in your health care.

Understand how your DNA may affect your health and response to certain medications, so you and your doctor can make more informed decisions.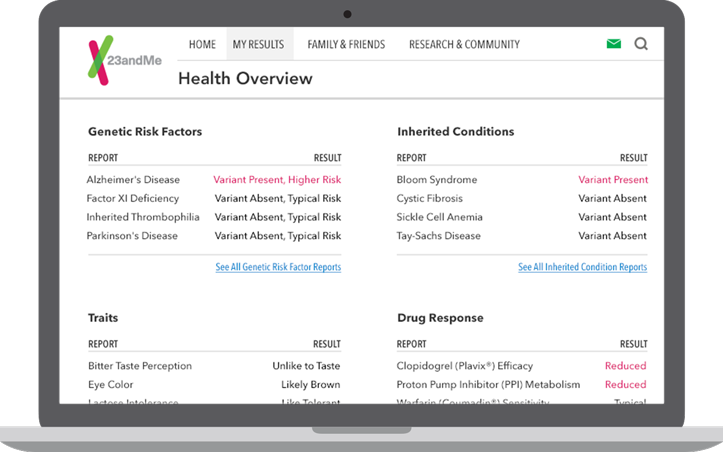 Learn over a hundred things about yourself.
23andMe's in-home, saliva-based service helps you know more about yourself. With reports on over 100 health conditions and traits, here are a few of the things you can learn about you.
Better health starts with

a healthy awareness.

Below are a few examples where we may help you learn more about your genetics. And when you know more, you can consider better lifestyle choices and look out for common conditions and serious diseases.