23 pairs of chromosomes.
One unique you.
Receive an overview of your DNA through
detailed reports, tools and more.
For kits purchased at a retail store, there is a required lab fee.
The lab fee is for processing your saliva sample and generating your reports.
Two easy ways to discover you.
Choose what's right for you.
See Full List of Reports
$69

lab fee
Ancestry
Service
Experience your ancestry in a new way! Get a breakdown of your global ancestry by percentages, connect with DNA relatives and more.
$169

lab fee
Health +
Ancestry Service
Get an even more comprehensive understanding of your genetics. Receive 150+ online reports on your ancestry, traits and health - and more.
You can always upgrade to the Health + Ancestry Service at a later time - once you've received your Ancestry Service reports.
Please note that you can save $25 today by purchasing the Health + Ancestry Service for $100 more.
Or you can add Health reports later for $125.**
Thinking about gifting? You can cover the cost of a lab fee with a gift card.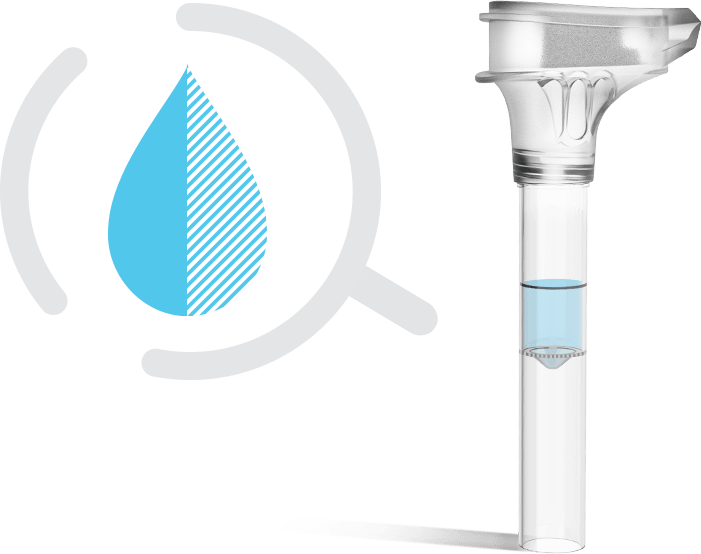 How it works
For kits purchased from a retailer
Pay required lab fee online

Go online and register your kit using the saliva tube barcode so we know it belongs to you. Choose from our Health + Ancestry or Ancestry services. Pay the required lab fee - $69 for Ancestry Service and $169 for Health + Ancestry. Our lab will not process your sample and you will not receive your reports until you have registered and your payment is received.

Spit

Follow kit instructions to spit in the tube provided and mail it back to our lab in the pre-paid package.

Discover

After we analyze your sample, we will send you an email to let you know your reports are ready in your online account. Log in and start discovering what your DNA says about you.
Hi.

Still have questions?

Here are just a few of the things people frequently ask about 23andMe.
If you don't see your question here, get in touch with us.
Our service is exclusively online. You'll receive your reports through a password-protected account at 23andme.com, and you'll have access to additional web-based tools and features.

In order to receive reports and participate in the service, you need to have a valid email address that allows you to send and receive messages. You also need access to a computer or mobile device that connects to the Internet.
You need to register your kit in order to link it to your 23andMe account online. Registration connects the barcode on your saliva sample to your account so we know your sample belongs to you. Our lab cannot process your sample if it is not registered.
Your saliva contains DNA from cells in your mouth. The saliva collection kit you purchase will come with instructions for providing your sample.
Our CLIA-certified lab extracts DNA from cells in your saliva sample. Then the lab processes the DNA on a genotyping chip that reads hundreds of thousands of locations in your genome.

Your genetic data is analyzed, and we generate your personalized reports based on well-established scientific and medical research.
23andMe offers two Personal Genetic Services: Health + Ancestry and Ancestry Service. Both services require submitting a saliva sample using our saliva collection kit that you send to the lab for analysis.
Our Health + Ancestry Service provides insights on your health predispositions*, carrier status*, traits, wellness and ancestry. We analyze, compile and distill the information extracted from your DNA into 150+ reports you can access online and share with family and friends.
Our Ancestry Service helps you understand who you are, where your DNA comes from and your family story. We analyze, compile and distill your DNA information into reports on your Ancestry Composition, Ancestry Detail Reports, Maternal & Paternal Haplogroups, Neanderthal Ancestry and provide a DNA Relatives tool to enable you to connect with relatives who share similar DNA.
There is a special process for kits purchased from a retailer. In order to receive the 23andMe service with a kit that has been purchased from a retailer, payment of an additional lab fee must be made at the time the kit is registered online at 23andMe.com/start.
You cannot register the kit in the name of the gift recipient and pay the fee for them in advance as the recipient must consent to the Terms of Service and Privacy Policy, and decide whether to participate in Research and Bio Banking.
One suggestion is that you provide the additional funds for the lab fee as part of the gift, perhaps by including a gift card in the amount of the lab fee.
There is a special process for kits purchased from a retailer. You will need to pay an additional lab fee. This has to be paid at the time the kit is registered online at 23andMe.com/start and cannot be prepaid by the gift giver.
To receive a refund for the cost of the kit, $29.99 plus applicable taxes, you must return your kit to the retailer from which you purchased it. Please consult the refund policy of the retailer to determine if your kit is eligible to receive a refund. Refunds for the kit are only available through the retailer.
To receive a refund for the lab fee, you must fill out our online refund form. We cannot issue a refund if (i) you request a refund more than 30 days after the payment of your lab fee was processed; or (ii) our laboratory had begun processing your saliva sample prior to your request for refund. The refund form can be found on the 23andMe Help Center, found at customercare.23andme.com.
You choose how your genetic information is used and shared with others. We tell you how those choices are implemented and how we collect, use and disclose your information.
We will not share your individual-level information with any third party without your explicit consent
We support the Genetic Information Nondiscrimination Act (GINA) and other similar laws that protect individuals from being discriminated against based on their genetics and will not provide your information or results to employers or health insurance companies
We have guidelines and policies in place to protect the personal information of children as well as incapacitated or deceased individuals
We do not provide information to law enforcement unless we are required to comply with a valid subpoena or a court-ordered request
*The 23andMe PGS test includes health predisposition and carrier status reports. Health predisposition reports include both reports that meet FDA requirements for genetic health risks and reports which are based on 23andMe research and have not been reviewed by the FDA. The test uses qualitative genotyping to detect select clinically relevant variants in the genomic DNA of adults from saliva for the purpose of reporting and interpreting genetic health risks and reporting carrier status. It is not intended to diagnose any disease. Your ethnicity may affect the relevance of each report and how your genetic health risk results are interpreted. Each genetic health risk report describes if a person has variants associated with a higher risk of developing a disease, but does not describe a person's overall risk of developing the disease. The test is not intended to tell you anything about your current state of health, or to be used to make medical decisions, including whether or not you should take a medication, how much of a medication you should take, or determine any treatment. Our carrier status reports can be used to determine carrier status, but cannot determine if you have two copies of any genetic variant. These carrier reports are not intended to tell you anything about your risk for developing a disease in the future, the health of your fetus, or your newborn child's risk of developing a particular disease later in life. For certain conditions, we provide a single report that includes information on both carrier status and genetic health risk. Warnings & Limitations: The 23andMe PGS Genetic Health Risk Report for BRCA1/BRCA2 (Selected Variants) is indicated for reporting of 44 variants in the BRCA1 and BRCA2 genes. The report describes if a person's genetic result is associated with an increased risk of developing breast cancer and ovarian cancer and may be associated with an increased risk for prostate cancer, pancreatic cancer, and potentially other cancers. The variants included in this report do not represent the majority of the BRCA1/BRCA2 variants in people of most ethnicities. This report does not include variants in other genes linked to hereditary cancers and the absence of variants included in this report does not rule out the presence of other genetic variants that may impact cancer risk. The PGS test is not a substitute for visits to a healthcare professional for recommended screenings or appropriate follow-up. Results should be confirmed in a clinical setting before taking any medical action. For important information and limitations regarding each genetic health risk and carrier status report, visit 23andme.com/test-info/
**Savings based on regular upgrade price of $125. We may offer special discounted upgrades from time to time.
Welcome
Remember, for kits purchased from a retail store:
There is a required lab fee for processing your saliva sample and generating your reports.