Discover what your 23 pairs of chromosomes say about you.
Your health, traits, ancestry - and more.
The 23andMe Difference.
Receive an overview of your DNA – your 23 pairs of chromosomes – through detailed reports, tools and more.
see all reports
See what your DNA can tell you.
Click to explore our service below.
Carrier
Status*

Ancestry

Wellness

Traits

Share &
Compare

DNA Relatives
The first and only genetic service available directly to you that includes reports that meet FDA standards for clinical and scientific validity.
Carrier Status reports*
35+ reports
Being a "carrier" means you "carry" one genetic variant for a condition. Carriers do not typically have the genetic condition, but they can pass a genetic variant down to their children. If both parents are carriers, there is a 25% chance their child will have the condition.
Understanding your carrier status helps you work with your doctor to prepare for the health of your future family. Important information about our Carrier Status Reports.
Reports include*
Cystic Fibrosis
Sickle Cell Anemia
Hereditary Hearing Loss
See sample report
Take a closer look at a report.
Ancestry reports
3 reports
Your DNA comes from all of your ancestors. In your DNA, we can find genetic traces of where your ancestors lived throughout history.
You also share DNA with people around the world today. You can choose to connect with them through our database. You will continue to find new relatives as our database of more than one million customers grows over time. Learn more.
Reports include
Ancestry Composition
Neanderthal Ancestry
and DNA Relatives tool
See sample report
Take a closer look at a report.
Wellness reports
5+ reports
When it comes to your wellbeing, your DNA is one part of the story that also includes your environment and lifestyle.
Find out how your DNA relates to your caffeine consumption, lactose digestion and your muscle type.
Reports include
Deep Sleep
Lactose Intolerance
Saturated Fat and Weight
See sample report
Take a closer look at a report.
Traits reports
19+ reports
Find out your likelihood of having certain characteristics. See how your DNA affects your hair color, taste preferences and more. You can also compare your results to other 23andMe customers.
Reports include
Hair: Color, Curliness, Male Bald Spot
Taste & Smell: Sweet vs. Salty, Bitter
Facial Features: Cheek Dimples, Unibrow, Freckles
See sample report
Take a closer look at a report.
Tools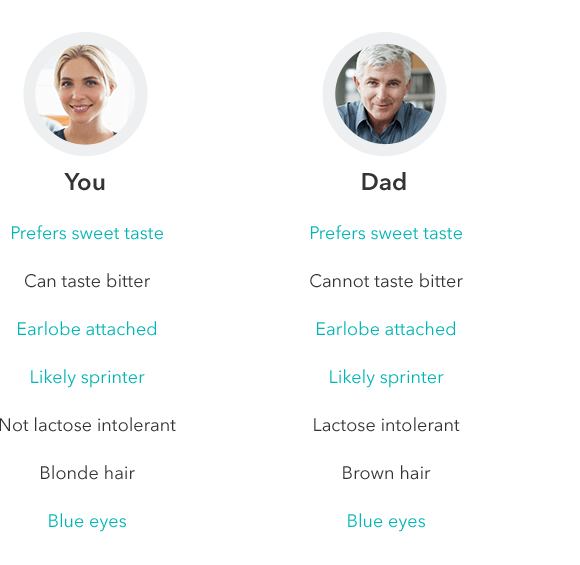 Hi.

Still have questions about service?

Here are just a few of the things people frequently ask about 23andMe.
If you don't see your question here, get in touch with us.
How large is the 23andMe DNA database?
Our database has more than 1,000,000 genotyped members worldwide.
Will I be able to share information with my family?
Yes. Our service has tools that enable you to share your reports with friends and family. In fact, the more family members that participate in 23andMe, the more interactive and engaging your results will be. When you share with family members who are 23andMe customers, you can see how genes are passed down in your family – and see the similarities and differences between family members – which can help you understand and connect to one another. Sharing and comparing information can be a great starting point for discussing and learning more about your identities, health conditions, ancestry and more.
Genetic information is hereditary and tells you many things about your close relatives as well as yourself. You should consider whether your family wants to know all of the information available, so be thoughtful about sharing it.
Whom can I talk to about my carrier status* results?
If you are considering starting a family, talk to your doctor about appropriate testing or getting your partner tested. Also, your results may be useful to share with family members who may benefit from this information.
Genetic counselors can answer your questions about health-related DNA testing. These are health professionals that have special training in genetic conditions. They can help you decide whether genetic testing is right for you, and they can also help you better understand your 23andMe results. We provide a link to resources that can help you locate a genetic counselor in your area and enable you to download a file to share your genetic reports.
What services do you provide?
23andMe offers two Personal Genetic Services: Health + Ancestry and Ancestry. Both services require submitting a saliva sample using our saliva collection kit that you send to the lab for analysis.
Our Health + Ancestry Service examines your genes to tell you about your ancestry, carrier status,* wellness and traits. We analyze, compile and distill the information extracted from your DNA into 65+ reports you can access online and share with family and friends. See full list of reports offered.
Our Ancestry Service helps you understand who you are, where you came from and your family story. We analyze, compile and distill your DNA information into reports on your Ancestry Composition, Haplogroups, Neanderthal Ancestry and provide a DNA Relatives tool to enable you to connect with people who share DNA with you.
*Our tests can be used to determine carrier status in adults from saliva collected using an FDA-cleared collection device (Oragene·DX model OGD-500.001), but cannot determine if you have two copies of the genetic variant. The tests are not intended to diagnose a disease, or tell you anything about your risk for developing a disease in the future. On their own, carrier status tests are not intended to tell you anything about the health of your fetus, or your newborn child's risk of developing a particular disease later in life.
The Cystic Fibrosis carrier status test is indicated for the detection of 28 variants in the CFTR gene and is most relevant for people of Ashkenazi Jewish, European, and Hispanic/Latino descent. The Sickle Cell Anemia carrier status test is indicated for the detection of the HbS variant in the HBB gene and is most relevant for people of African descent. The carrier status tests related to hereditary hearing loss consist of two tests – one indicated for the detection of two variants in the GJB2 gene which is most relevant for people of Ashkenazi Jewish and European descent, and one indicated for the detection of six variants in the SLC26A4 gene.
Learn the origins of your maternal and paternal ancestors and where they lived thousands of years ago.
Women can only trace their maternal haplogroup. This is because the paternal haplogroup is traced through the Y chromosome, which women do not inherit.
Genetic variants are small changes in your DNA.