23andMe Marketplace: Work with us
23andMe has a rich ecosystem of applications that allow our customers to do even more with their data. From DNA art to personalized diet recommendations, the 23andMe Marketplace provides a place for people to access additional experiences related to genetics and ancestry.
Learn the benefits of working with us and find out how 23andMe can help your customers discover new possibilities.
We're the industry leader.
Founded in 2006, 23andMe is the only direct to consumer genetics company that meets FDA standards for clinical and scientific validity. We also have the largest database of re-contactable customers in the world - over 1 million genotyped and counting.
Engaged and educated customers.
Our customers:
Have a high amount of disposable income
Are very health-conscious
Are educated on genetics
Tend to be early adopters of new technology
80% of our customers are opted into research (75% have completed at least 1 research survey) and have consented to be re-contacted.
Easily accessible genetic reports.
When it comes to customers' wellbeing, DNA is one part of the story that also includes environment and lifestyle. Incorporate information into your product about how DNA relates to traits like customers' caffeine consumption, genetic weight, and muscle type.
Saturated fat & weight
Genetic weight
Lactose intolerance
Deep sleep
Sleep movement
Muscle composition
Alcohol flush
Caffeine consumption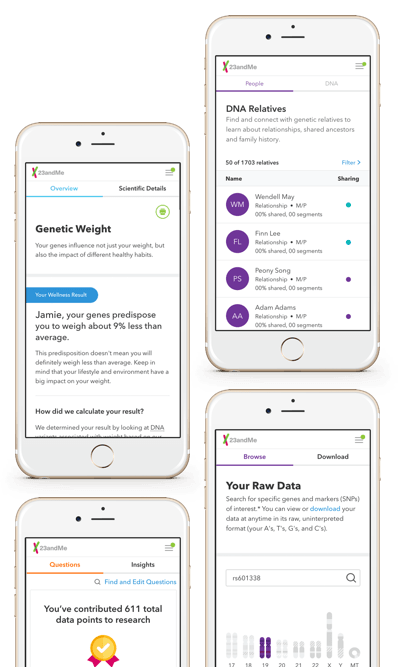 Designed for every platform and experience.
Our customers can access 23andMe any way they want: through their computers or mobile devices.
How Marketplace has benefited customers:
Pulling genetic weight and saturated fat report data to create a genetically personalized nutrition plan
Integrating genetics with activity data from fitness trackers
Connecting individuals through shared genetic markers
Allowing customers to be a part of research on cardiovascular disease
Need help?
Do you want to get involved with Marketplace but don't know how you might be able to use our API or data? Or maybe you have a sense of what you'd like to do but no idea how to make it a reality? Reach out to us if you need help accessing our API, integrating with our raw data, or even just help with ideas.
Connect with us.
We're passionate about helping people understand and benefit from their genetic information. We're huge believers in the idea that the applications for genomics are growing every day - we're only at the beginning. If you believe in our mission too but aren't sure where to start, reach out to our business development team and let's consider new ways we can partner together.