Ancestry Service
$99
$69*
Experience your ancestry in a new way! Get a breakdown of your global ancestry by percentages, connect with DNA relatives and more. learn more
order now
Health
Service
$199
Learn how your genetics can influence your risk for certain diseases and how your genes play a role in your well-being and lifestyle choices.
order now
Health + Ancestry Service
$199
$149*
Get an even more comprehensive understanding of your genetics. Receive 75+ online reports on your ancestry, traits and health - and more. learn more
order now
*Savings based on regular price per kit (Ancestry Service $99 / Health + Ancestry Service $199).
limited holiday edition
Buy a (RED) kit. Fight AIDS.
23andMe is proud to donate 5% of the purchase price of every
(PRODUCT)RED™ Health + Ancestry Service kit to fight AIDS.
order now
this is me®
Customer Stories.
Genetic Journeys.
We hear from thousands of customers around the world who write in to tell us about their 23andMe experience—and the impact it has had on their life.
23 pairs of chromosomes.
One unique you.
Start experiencing your 23 pairs
of chromosomes.

You are made of cells. And the cells in your body have 23 pairs of chromosomes. Your chromosomes are made of DNA, which can tell you a lot about you. Explore your 23 pairs today.
Our lab. CLIA-certified.
Your DNA analysis is performed in US laboratories that are certified to meet CLIA standards—the Clinical Laboratory Improvement Amendments of 1988.
A CLIA-certified lab must meet certain quality standards, including qualifications for individuals who perform the test and other standards that ensure the accuracy and reliability of results.
We use leading technology to genotype your DNA—a custom Illumina HumanOmniExpress-24 format chip.
How it works.
It's just saliva.
Provide your saliva sample from home. Mail it back to our lab in the same kit it came in—the postage is pre-paid.
We bring your genetics to you.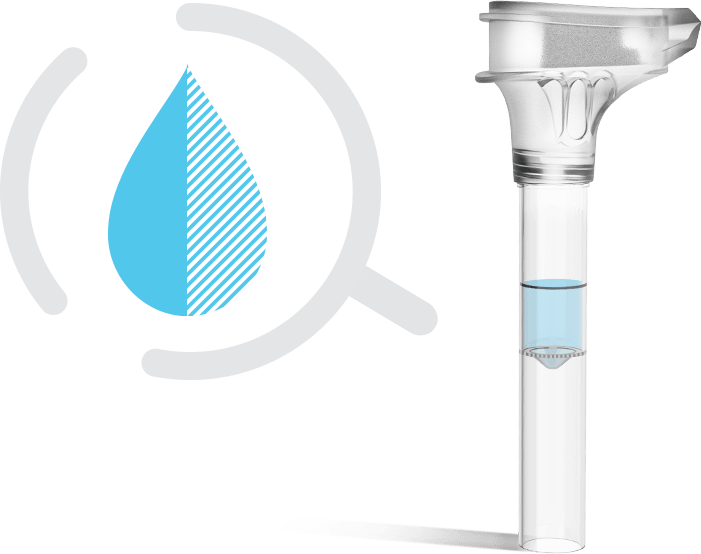 Hi.

Still have questions?

Here are just a few of the things people frequently ask about 23andMe.
If you don't see your question here, get in touch with us.
FAQs
23andMe was founded in 2006 to help people access, understand and benefit from the human genome.
We have more than two million genotyped customers around the world.
In 2015, 23andMe was granted authorization by the US Food and Drug Administration (FDA) to market the first direct-to-consumer genetic test.
23andMe offers two Personal Genetic Services: Health + Ancestry and Ancestry. Both services require submitting a saliva sample using our saliva collection kit that you send to the lab for analysis.
Our Health + Ancestry Service provides insights on your genetic health risks*, carrier status*, traits, wellness and ancestry. We analyze, compile and distill the information extracted from your DNA into 75+ reports you can access online and share with family and friends. See full list of reports offered.
Our Ancestry Service helps you understand who you are, where your DNA comes from and your family story. We analyze, compile and distill your DNA information into reports on your Ancestry Composition, Maternal & Paternal Haplogroups, Neanderthal Ancestry, Your DNA Family and provide a DNA Relatives tool to enable you to connect with relatives who share similar DNA.
If you have the Health + Ancestry Service you have access to the full 23andMe experience. If you only have the Ancestry Service, you can easily upgrade to the Health + Ancestry Service for $125 which gives you access to all 75+ reports on ancestry, traits and health. You are eligible to upgrade once you have received your Ancestry reports. To upgrade, log in to your 23andMe account and navigate to the Settings page. You will receive immediate access to your new health reports.
You may save up to $25 if you purchase the $199 Health + Ancestry Service instead of the $99 Ancestry Service as the fee for adding health reports later is $125 ($224 total). We may offer special discounted upgrades from time to time.
23andMe is the first and only genetic service available directly to you that includes reports that meet FDA standards for clinical and scientific validity.
Our rigorous quality standards:
Genetic Health Risk* and Carrier Status* reports meet FDA criteria for being scientifically and clinically valid
All saliva samples are processed in CLIA-certified and CAP-accredited labs
Our DNA collection kit is FDA-cleared for use with our Genetic Health Risk and Carrier Status reports manufactured in accordance with FDA's Good Manufacturing Practice regulations
Genotyping is a well-established and reliable platform for analyzing DNA
Our team of scientists and medical experts use a rigorous process to develop and design each report, ensuring validity and ease of use
Ancestry percentages are derived from our powerful, well-tested system that provides you with ancestry estimates down to the 0.1%
You choose how your genetic information is used and shared with others. We tell you how those choices are implemented and how we collect, use and disclose your information.
We will not share your individual-level information with any third party without your explicit consent
We support the Genetic Information Nondiscrimination Act (GINA) and other similar laws that protect individuals from being discriminated against based on their genetics and will not provide your information or results to employers or health insurance companies
We have guidelines and policies in place to protect the personal information of children as well as incapacitated or deceased individuals
We do not provide information to law enforcement unless we are required to comply with a valid subpoena or a court-ordered request
*The 23andMe PGS test uses qualitative genotyping to detect clinically relevant variants in the genomic DNA of adults from saliva collected using an FDA-cleared collection device (Oragene·DX model OGD-500.001) for the purpose of reporting and interpreting genetic health risks and reporting carrier status. It is not intended to diagnose any disease. The relevance of each report may vary based on ethnicity. Each genetic health risk report describes if a person has variants associated with a higher risk of developing a disease, but does not describe a person's overall risk of developing the disease. These reports are not intended to tell you anything about your current state of health, or to be used to make medical decisions, including whether or not you should take a medication or how much of a medication you should take. Our carrier status reports can be used to determine carrier status, but cannot determine if you have two copies of any genetic variant. These carrier reports are not intended to tell you anything about your risk for developing a disease in the future or anything about the health of your fetus, or your newborn child's risk of developing a particular disease later in life. For Gaucher Disease Type 1, we provide a single report that includes information on both carrier status and genetic health risk. The Parkinson's Disease genetic health risk report (i) is indicated for reporting of the G2019S variant in the LRRK2 gene, and the N370S variant in the GBA gene, (ii) describes if a person has variants associated with an increased risk of developing Parkinson's disease, and (iii) is most relevant for people of European, Ashkenazi Jewish, and North African Berber descent.
Two easy ways to discover you.
$99
$69*
Ancestry
Service
Get a breakdown of your global ancestry, connect with DNA relatives and more.
$199
$149
Health
Service
Learn how your genetics can influence your risk for certain diseases.
$199
$149*
Health +
Ancestry Service
Receive 75+ online reports on your ancestry, traits and health - and more.
*Savings based on regular price per kit (Ancestry Service $99 / Health + Ancestry Service $199).