The power of diversity.
Estimates show that more than 90 percent of the research into the genetics underlying disease has been conducted on people of European ancestry.
Whether this has been due to historical, cultural, economic or social reasons, we believe genetics and the study of disease and drug development should be for everyone. All ethnicities. All humans.
Our customer base includes large numbers of self-identified African Americans, Latinos and Asians. As we increase our understanding of different populations, we can better predict ancestry and perform fine-scale genetic mapping that can also be crucial for detecting associations with disease via admixture mapping.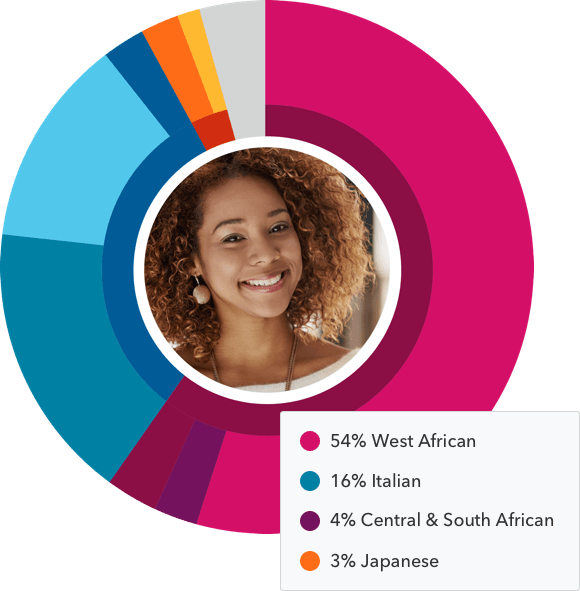 "23andMe presents a tremendous opportunity for African Americans to learn essential information about themselves, their families and their ancestry."
JUL 2011

We launched this genetic study of more than 10,000 African Americans in an effort to better understand the connection between DNA and disease.

OCT 2012

Published preliminary findings. View the presentation

NOV 2013

We kicked off our first African Ancestry Project, which recruited people with four grandparents from Sub-Saharan Africa. Our goal: to improve our knowledge of African genetic diversity.

DEC 2014

We published the first ever genetic portrait of the United States, showing the complex mixture of African, Indigenous American and European ancestry.

APR/MAY 2016

We reached the milestone of 45,000 African Americans participating in 23andMe research.

We received an NIH grant to help us develop a new analysis pipeline that may alleviate disparities in research.
What will you discover about your ancestry?
The first genetic portrait of the United States.
Using data gathered from the 23andMe Roots into the Future project we published "The genetic ancestry of African, Latino, and European Americans across the United States," the first large-scale national mapping of genetic ancestry that reflects historical migrations. It appeared in the American Journal of Human Genetics on December 18, 2014.
"We show that the signatures of recent historical migrations can be seen in the DNA of present-day Americans. Furthermore, our results can inform the design of medical genetic studies. For example, the presence of Indigenous American and African ancestry in European Americans may have implications for genetic studies of complex diseases."--Dr. Kasia Bryc, 23andMe Population Geneticist
Funding for more diversity in research.
In April of 2016, the National Institutes of Health (NIH) funded a 23andMe study that could help alleviate some of the existing disparities in genetics research between people of European ancestry and people of African, Latino and Asian ancestry.
With our data and this funding we aim to gain insights into genetic variants important for populations that are underrepresented in current research on health conditions and traits.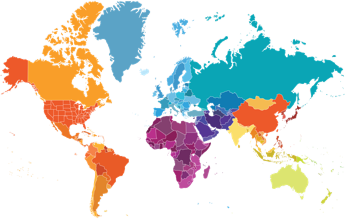 Project advisors. Key visionaries.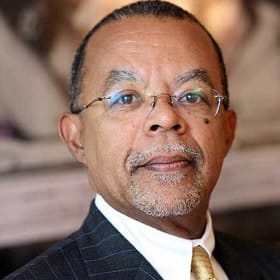 Henry Louis Gates, Jr., PhD
is the Alphonse Fletcher University Professor and Director of the Hutchins Center for African and African American Research at Harvard University. Dr. Gates earned his PhD in English Literature from Clare College at the University of Cambridge. Dr. Gates is Editor-in-Chief of TheRoot.com, a daily online magazine focusing on issues of interest to the African American community. With Evelyn Brooks Higginbotham, he is the co-editor of the eight-volume biographical encyclopedia African American National Biography (Oxford, 2008). Dr. Gates is also the author of Faces of America (New York University Press, 2010), which expands on interviews he conducted for his critically acclaimed PBS documentary series of the same name.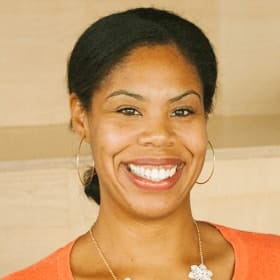 Erica Baker
is an avid genealogy researcher who has been researching her family tree since 2004 with the ultimate goal of tracing poorly documented African American branches of her tree back to Africa. Erica was an engineer at Google for over ten years and now works at Slack Technologies. She's been an advocate for more diversity in Silicon Valley, and worked to push companies to be more transparent about the diversity of their workforce. In 2015 the noted tech journalist Kara Swisher singled out Erica as a woman to watch in the coming years.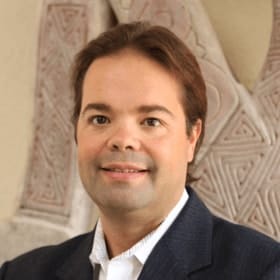 Carlos Bustamante, PhD
is Professor of Genetics at Stanford University. Dr. Bustamante earned his PhD in biology, along with an M.A. in statistics, at Harvard University in 2001. His scientific interests center on population genetics with a focus on analysing genome-wide patterns of variation to address fundamental questions in biology, anthropology, and medicine. His most current research focuses on human population genomics and global health including developing statistical, computational, and genomic resources for enabling trans- and multi-ethnic genome-wide association and medical sequencing studies of common human diseases. Dr. Bustamante is the recipient of numerous awards including a MacArthur Fellows Award.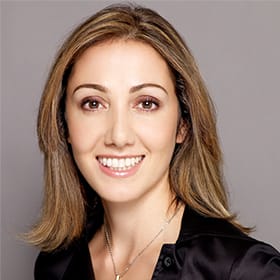 Pardis Sabeti, M.D. D.Phil.
Dr. Pardis Sabeti is Associate Professor at the Center for Systems Biology and Departments of Organismic and Evolutionary Biology and of Immunology and Infectious Disease at Harvard University, an Institute Member of the Broad Institute of Harvard and MIT and a Howard Hughes Investigator. Dr. Sabeti is a computational geneticist with expertise developing algorithms to detect genetic signatures of adaptation in humans and the microbial organisms that infect humans. She is a National Geographic Emerging Explorer, was named a TIME magazine 'Person of the Year' as one of the Ebola fighters and is lead singer and co-song writer of the rock band Thousand Days.
Hi.

Still have questions about Roots into the Future?

Here are just a few of the things people frequently ask about 23andMe.
If you don't see your question here, get in touch with us.
Most genetic studies have been conducted on people of European ancestry, so there is a gap in our understanding of the genetic factors that influence disease among those of other ancestries. 23andMe sees an urgent need to scale research within non-European populations so all people can benefit from breakthroughs in genetic science. 23andMe's web-based, large scale research model is ideally suited to tackling this problem.
In 2011, 23andMe worked with the National Urban League and the Du Bois Institute to recruit 10,000 African Americans to participate in research. The recruitment phase of the project was highly successful and led to an increase in awareness of this research initiative as well as 23andMe's ancestry reports. This initiative took us from 1,500 African Americans in our research database in 2010 to over 45,000 today.
Roots into the Future has enabled 23andMe to:
Create a more ethnically diverse research cohort.
Conduct research about people of non-European ancestry.
Leverage 23andMe's bioinformatics expertise to study people of mixed ancestry.
23andMe presented preliminary research results from Roots into the Future at the 2012 American Society of Human Genetics Annual Meeting. Those initial analyses confirmed previously discovered genetic associations with Body Mass Index, height, lupus, osteoporosis, type 2 diabetes, and migraines. This project also enabled 23andMe to conduct a study of genetics across the United States, published in the American Journal of Human Genetics in 2015. More recently, 23andMe has analysed data on a much broader range of traits and conditions. We do not yet have results to publish.
More importantly, the project enabled 23andMe to submit and obtain funds from the National Institutes of Health to implement a new approach to genetic analysis that benefits from the mixed ancestry of African Americans. Read more .
Is percentage of African ancestry correlated with disease risk for a broad range of diseases?
Can we replicate discoveries from previous genome wide association studies (GWAS) in African Americans (prostate cancer, type 2 diabetes, etc)?
Can we replicate genetic findings in European populations in this African American cohort?
Can we discover novel associations with disease in this cohort?
The Tuskegee Syphilis Project, conducted from 1932 to 1972 by the U.S. Public Health Service, was performed to study the natural progression of syphilis in poor, rural black men in Tuskegee, Alabama. But in an egregious example of misconduct, researchers withheld from these men information about their condition, and the researchers also actively denied treatment for these men. The Tuskegee study was a gross and blatant violation of federal human experimentation guidelines and has been used as as teaching example ever since. In contrast with Tuskegee, our research platform has received and is being conducted only with standard Institutional Review Board (IRB) approval of the research procedures. Any changes to those procedures must be reviewed and approved by the IRB before being implemented. 23andMe's IRB is an Association for the Accreditation of Human Research Protection Programs (AAHRPP)-accredited company, Salus IRB (formerly Ethical and Independent Review Services) (Independence, MO and San Anselmo, CA).
No. Anyone who signs up for 23andMe's service is given the opportunity to consent to have their genetic and other information used in research. They may then choose which surveys and questions to respond to.